Petrek GPS - IP55 Water splash proof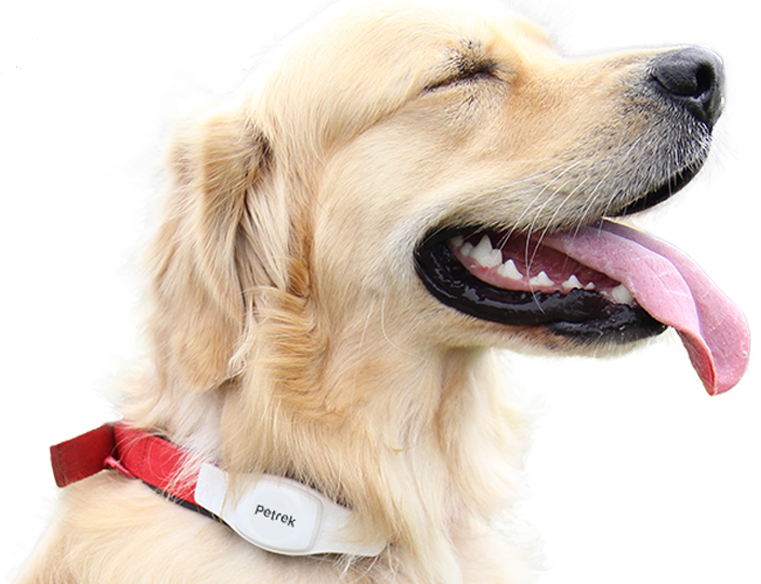 This product is now discontinued
However, be sure to check out the Petrek 3G unit! Does the same job but smaller, more waterproof and in stock!
Does your cat go missing for days at a time? Is your dog a master escape artist?
Finally there is an answer to all the heartache and distress caused by losing a pet. The Petrek GPS delivers the highest standard of pet tracking for owners who want continuous knowledge of the whereabouts of their beloved pets. The 35gram Petrek GPS unit easily attaches onto any cat or dog collar using a universal collar adaptor and its associated app seamlessly integrates with most smart-phones; both Apple iOS & Android.

In a nutshell, you can pinpoint your pet's location on your mobile phone; see where they've been; and, receive instant alerts if your pet breaches the boundaries of your property. The mobile application uses satellite Google mapping images and can even compile up to 1 month of location data into a heat mapping display to give you an indication of your pet's favorite hang out hot-spots.

There are three simple tracking modes to choose from: urgent mode which will track your pets location on 30 second interval updates; normal mode which will track your pets location on 5 minutes interval updates; or, power saving mode which will track your pets location on 2 hours interval updates and will also increase the Petrek's battery performance by up to 8 days.

Unlike competing products on the market, the Petrek GPS does not bind you into any monthly of yearly contract fees. The only additional cost required is a small credit top up once a year so that the prepay card does not expire. 

Order your Petrek GPS online today and be reassured that you're pet will always be in safe hands with Petrek.

Fine print:
iPet App best used with newer iPhone and Android phones with at least a 1.2ghz Dual core processor. (Android phone for best results)
 Heat mapping feature is available on Android devices only due to iOS limitations; however, daily history playback is still possible with iOS devices.
Petrek GPS is suitable for medium to large sized pets that are approximately 5kg+. Please check dimensions before purchase, we may not provide refunds should you find the item too big, please read our Refund policy at the bottom of the checkout page for more information.(Check the pictures on the side for dimensions. Petrek GPS weights 35 grams)


All Petrek trackers are made to come off should your pet become stuck in a tight situation or area, such as a rabbit hole, under a house, over a fence or even a tree. This is to prevent our trackers from becoming a choking accessory. We are not liable for any loss of trackers especially when the trackers come off during a struggle under a house etc where no GPS signal is available.
 Location update accuracy depends on GPS Signal/Google Maps and can vary from 0.5m-40m+ depending on environmental surroundings, see commonly asked questions for more information. Tracker works only with 2G reception and requires mobile reception to update it's location.
Please make sure you check the Vodafone coverage page below.
( http://www.vodafone.co.nz/network/coverage/ )



The accuracy of each update depends on the GPS signal strength and the accuracy of Google map in the area and can vary from 0.5-30m+. Inaccuracies occur most often if the tracker isn't moving much or is wedged between the wall or ground. Poor GPS signal which occur indoors or under shelter can provide inaccuracies of up to 200m+ or even 1000m in certain environments. This is the characteristic of all real time GPS trackers as they work best when "on the move" and why we stress that you must always check the GPS signal strength before determining the accuracy of each update.



Each update requires GPS signal (direct view of the sky), GSM signal (mobile reception) and movement. Without these three necessities the tracker will not update or give accurate location updates. E.g., When the cat is indoor. In this case, the app will just show the last locked GPS location (outside) before the cat went indoors or show a weak GPS signal update from afar. In other cases, if the cat is close to an building or property and just lazing on the deck or driveway this can also trigger inaccurate GPS sway points which can be up to 200 metres or more off it's location, this is because when movement is minimal and the tracker is wedged between the neck and the ground signals can be blocked. Basically, GPS trackers work best when outside and

 

on the move but

 

a full guide is given to help you determine its accuracy based on signal strength.


Geo-fencing may trigger false alarms due to inaccurate GPS sway points as explained above, this is not a fault but a characteristic of bad GPS signal when indoor or when the tracker is wedged between the pet and the ground/fence etc. Users are advised to set a Geo-fence zone not too close to homes to reduce false alarms. 


Device is IP55 waterproof certified, meaning the tracker has passed being blasted by 12.5 litres of high pressure water from all angles. It is not capable of being fully submerged in water thou we have had naughty dogs that had gone swimming with it but any water damage would not be covered under warranty.
Every tracker requires a SIM card, so when you receive your Petrek GPS, we recommend Vodafone Pay & Go prepay cards. A $20 top up once a year will be all that is required for the most active users. Note: SIM card goes into the tracker itself, so do not confuse it with the SIM card in your phone. Please note the Petrek GPS does not work with 2degree mobiles anymore due to the shut down of 2G networks. Vodafone's 2G will stay until at least 2025.


Currently, the only on-going costs are from the Vodafone prepay SIM which requires a $20 a year minimum top up to keep the SIM active. Starting this year Google has started charging a map service fee of approximately $30-40 a year per tracker in order for our apps to use the latest Google map updates. However our new and current users won't have to pay for this fee until at least 1st January 2022. For more detail information please click here 


Please note battery life is very dependent on reception. The better the reception the longer the battery life. We are constantly tweaking this  model to achieve maximum battery life so expect battery life to increase as your tracker automatically updates during usage. Charging takes around an hour. Please read battery life expectations below

Features:
Live Location
Get live location updates by the press of a button shown on Google Maps with an accuracy of up to 0.5 metres so you know the  location of your pet.
*Satellite Live location updates require full GSM and GPS signal. GPS signals require clear sight of sky. The most accurate location updates will be received when tracker is outdoors. Google map accuracy can also affect total accuracy of tracker. Bad weather, hilly terrain etc all can have a accuracy bias of up to 20 or even 50 metres in extreme cases. Some rural and outdoor areas may have poor GPS reception due to limited Satellite stations and also inaccurate Google Map placement, so please allow 2 metre and up to 15 metre accuracy in certain areas. Please check your area's GPS signal with various GPS apps if you are unsure of your GPS and GSM reception. Indoors may show no GPS signal or weak signal so positioning will be approximate.

Satellite View
With the touch of a button you can zoom into full satellite imagery so you know which house, tree or fence is nearest your pet.
*Satellite view and any other live view is only accurate when there is GPS signal, if there is no GPS signal the app will show you the nearest cell tower for an idea of the area until the tracker moves out to an area with reception.
Street View Technology
Still not sure where your pet is? Drag the little Google street view person to the location of your pet and get an instant idea of the house or garden they are in!
Geo-Fencing
Through the iPet App for both Android and iOS phones you can now put your finger on your property and immediately create a proximity circle that you can adjust from 100 metres to 999 metres. Depending on your update time, should the iPet app detect your dog or cat outside the proximity circle on the latest location update, you will get an alert and notifications within seconds!
 *Geo-Fencing relies on GPS signals for the Petrek GPS to update its location . As long as the tracking is moving (not in sleep mode) and outdoors, the breach will be picked up. Please also note GSM network is required to send the notification to your phone.
Low Battery Alert
When your Petrek GPS is about to run out of juice, you will receive a notification via iPet App.
*Low battery alert applies only if there is GSM signal. If the tracker is in an area with no GSM reception, you may not receive the alert.
Battery Life
If the Petrek GPS does not detect movement, it simply goes to sleep mode. In pure sleep mode, it can last up to 1600 hours. However in practical use, depending on how active your pet is, update frequency and features you set to. 

- Normal mode (5-10 min updates) - Approx 8-14hours
- Urgent mode (30 Sec updates) 4-7 hours
- Power saving mode (2 hour updates) 2-4 days
*Battery life varies significantly depending on usage levels, For example in places with poor GPS (when indoors) or GSM reception battery life can decrease up to 2 hours, but if your pet is normally out and about in open areas where the tracker don't have to constantly hunt for better reception the battery life will increase. Read our FAQ for more information.

*Note Switching back from Power saving mode may take up to 20min (If the tracker is out in the open with GPS signal and cell reception) as the Petrek 3G goes to sleep for 2 hours to save power, however if Geo-fence is triggered on the next update, it will send an notification and change back to "normal" mode.
IP55 Waterproofing
Does your dog like running into paddles and walks in the rain? No worries, the Petrek GPS has been certified and has passed it's IP55 ratings which hangs the Petrek in the air and sprays 12.5L of water from a high pressure nozzle and makes sure no water gets in.
*IP55 rating does not allow the tracker to be used for swimming or diving. On the other hand, we have had pet owners using a bit of kiwi ingenuity to cover charging covers with BluTec in case their dog goes diving with excellent results.  However, warranty will not be given if damaged are done outside of the IP55 ratings.
What SIM card can I use?
† Please note that while we do not charge any ongoing fees for APP usage, the Petrek GPS requires a prepay SIM card (Vodafone only) loaded with credit for text or data charges to function.
The i-Pet app uses data for location updates only. [approx. 0.0017MB per automatic location update]
Text or data charges would depend on monthly plan purchased from telco. Please refer to telco pages for current pricing.
Petrek GPS does not support CDMA or WCDMA networks, as such Spark (Telecom) SIM card is incompatible.
What network your mobile phone is on is irrelevant. Ie. The Petrek GPS using Vodafone will have no issues sending location data and texts to owner's Spark (Telecom) mobile phone.
Lintek and any of it's agents and retailers do not take any responsibility if your pet is lost and is not found while using any of our trackers.